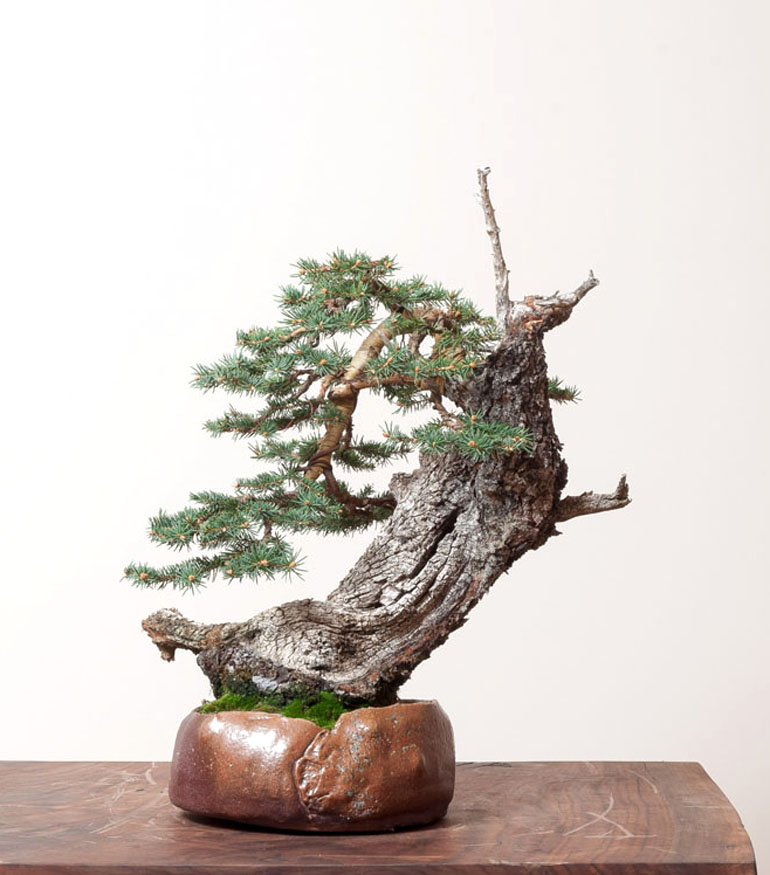 Colorado spruce from Ryan Neil's Bonsai Mirai. This one is more about bark than deadwood. Normally bark that covers deadwood is stripped to reveal the deadwood, but in this case it makes sense to leave it.
Leaving the high plateaus and mountains of northern Arizona and southern Utah today. A quick detour to SF and family, then back to Vermont via Boston on Sunday. Once we're back in the office, we'll find time to sort through our photos. Meanwhile here are some bonsai from our archives that shows three species we've seen growing in the wild on this trip. All the photos in this post were originally  borrowed from  Ryan Neil's Bonsai Mirai
Continued below…
–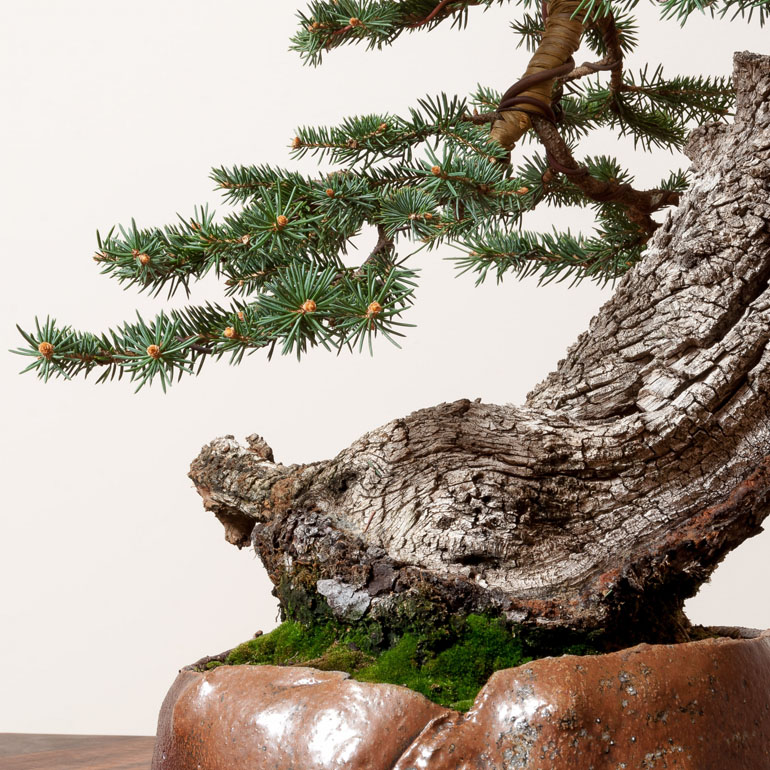 Nice pot. Ryan usually provides great close-ups and this one is no exception.
Continued from above…
I don't think I've ever had my spelling corrected by someone from Tasmania. Until yesterday that is, when I received this note from Noel Kemp…
Dear Wayne, I look forward to your Stone Lantern e-mails, and enjoy reading them, but, even I, way down here in Tasmania know that a national park you have there, near that Huge Canyon, is spelt "Bryce", not "Brice".
Kind regards, Noel
As long as we're referring to yesterday… I mentioned that we'd seen no Bristlecone pines (Pinus longaeva and Pinus aristata) so far. That changed when we walked right by several small ones on our hike into the heart of Bryce (note the spelling) Canyon's magnificent towering Hoodoos (stay posted for photos). The Bristlecones we saw were nothing like the ancient beauties we've seen in California's White Mountains, but the main Bryce trail for Bristlecones was closed, so we couldn't view their best
Continued below…

–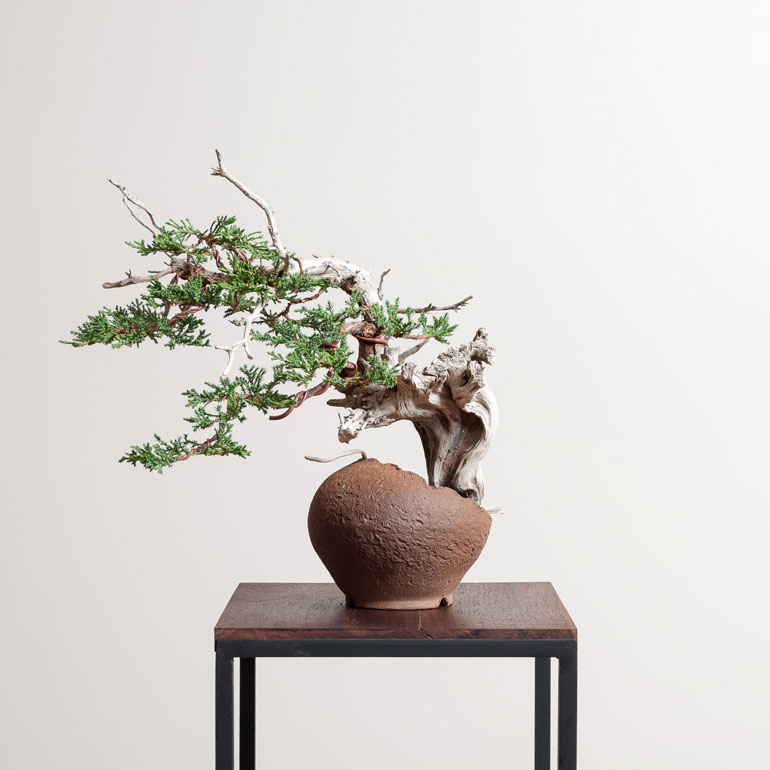 Rocky mountain juniper with some crazy natural deadwood and another perfectly suited pot.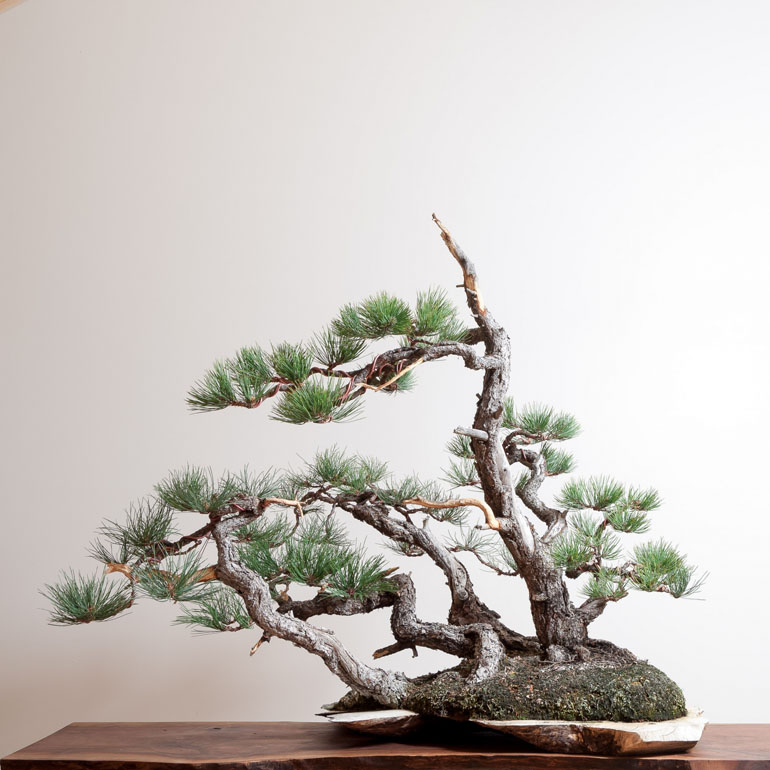 This wild Ponderosa pine looks like a sinuous root raft on a wooden slab.
Continued from above…
Speaking of magnificent old pines… Ponderosas are by far the dominant large tree in this part of the world. The good news is we didn't see any beetle ravaged stands like we've seen in Colorado's Front Range. The bad news is we saw thousands of fire ravaged Ponderosas, especially in the higher reaches of Bryce National Park. Most dead, but some the only living trees in blackened hillside after blackened hillside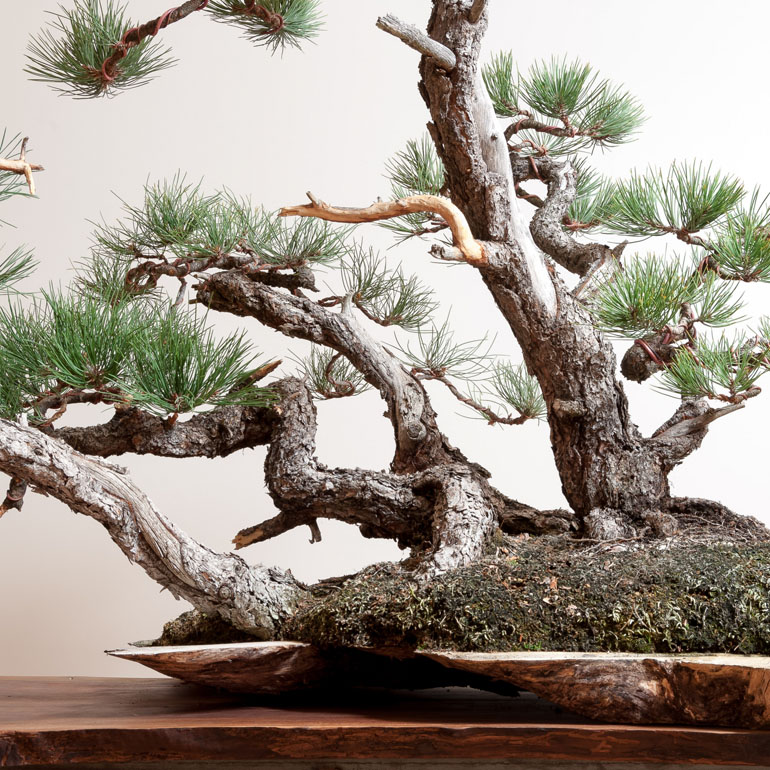 Another great close up
NEW BONSAI TOOL SPECIAL
Special Includes…

*Special does not include Green T turntables