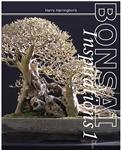 Bonsai Inspirations 1 by Harry Harrington
"Harry Harrington's approach is very genuine and refreshing. His bonsai creations are way beyond the traditional styles you see today, and that makes his bonsai so very personal. In his new book you will get a good insight into his approach to his bonsai art. A real must have for those aiming for creativity." Farrand Bloch, editor Bonsai Focus Magazine
"I have collaborated with Harry for many years now, creating pots for his amazing trees and from the very beginning I was impressed with his mastery of bonsai techniques. But what has really impressed me the most, is his ability to produce beautiful and innovative bonsai for the most humble raw material" Victor Harris, Bonsai Potter at Erin Pottery
"What Harry does with inexpensive, undeveloped and sometimes unattractive material, is pure inspiration, almost unique in our world bonsai community. Harry starts with whatever he can find, or whatever people bring him. Bonsai with humble origins and hidden potential. I think most of us can learn a lot from his approach. And save some of our hard earned money while we're at it" Wayne Schoech, publisher and editor of Stone Lantern Publishing and Bonsai Bark
This information rich book is divided into 14 chapters, each covering the progression and development of a bonsai over a period of many years. Full of In-depth articles, diagrams and hundreds of photographs in each chapter to help explain and illustrate the techniques involved.
Harry Harrington goes out of his way to reveal aspects of his unique design work and techniques for ensuring the health, vigor of and continued beauty of his bonsai.
A perfect companion for Harry's The Foundations of Bonsai, a book geared to novices (and others) with a emphasis on bonsai from inexpensive or even zero cost stock.
Breaking News! We just received four boxes of Bonsai Inspirations 2. We now have all three of Harry's benchmark bonsai books
The author, Harry Harrington lives, practices and teaches bonsai in the U.K.
Softcover 8.75" x 11" (280mm x 221mm x 17mm) 216 pages full of beautiful color photos and illustrations. Published by Bonsai4me.com