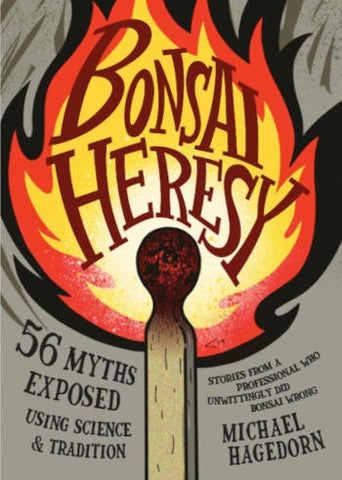 Bonsai Heresy by Michael Hagedorn
Michael Hagedorn, renowned bonsai artist, teacher, and author takes us deeper into the art and science of bonsai than you might have imagined possible. And he does it with disarming humor and a love for the art of bonsai.
Bjorn Bjorholm, bonsai artist and educator, who like Michael apprenticed in Japan wrote: "Not only does Michael dispel long-held bonsai myths, but he wonderfully weaves personal, often self-deprecating anecdotes into the mix. Well written, deeply researched, and perfectly timed, Bonsai Heresy is a must-read for every bonsai enthusiast."
Michael apprenticed with bonsai master Shinji Suzuki in Obuse, Japan from 2003 to 2006.  He lives and practices bonsai in Portland Oregon, where he founded Crataegus Bonsai Garden and The Portland Bonsai Village. Michael is also the Bonsai Consultant for the Portland Japanese Garden. He teaches classes to students from around the world at his garden, and blogs at crataegus.com.
Michael's first book Post-Dated: the Schooling of an Irreverent Bonsai Monk was in our opinion he best english language bonsai book... until Bonsai Heresy came out.

5" x 7". Paperback. 360 pages, with color illustrations by Sergio Cuan.