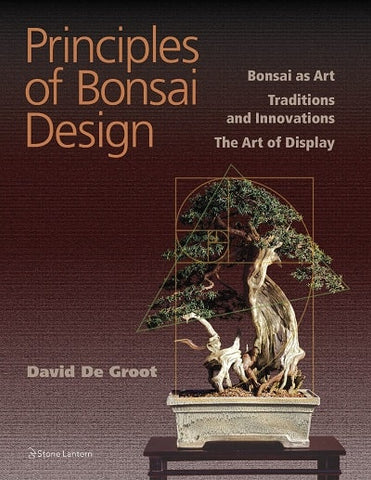 Principles of Bonsai Design
Dave De Groot's 2nd edition of the masterpiece Principles of Bonsai Design is better than ever. Added valuable content and superior new layout & design is making the best English language book on Bonsai Design even better. So much better that even those of you who own the first edition will want your own copy of the New 2nd edition.
You'll enjoy 500 photos and drawings to support Mr. De Groot's in depth discussions of bonsai art and aesthetics, traditional Japanese and Chinese bonsai styles, new naturalistic bonsai styles in the West and elsewhere, and much more
Perhaps best of all, are the detailed discussions that cover where technique and art come together; branch structure, deadwood features, initial styling, container selection, refinement, display and collection. And of course, more (scroll down for the table of contents). 
Whether you're a novice or a skilled practitioner, this one-of-a-kind book will help you improve your bonsai knowledge, your bonsai techniques and your enjoyment of the art of bonsai.
Softcover, 8 1/2" x 11", 250 pages with over 500 photos & drawings