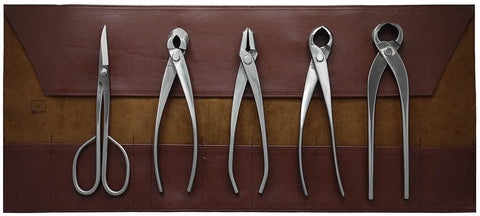 Five Piece Stainless Bonsai Tool Kit by Roshi Tools
Roshi stainless steel bonsai tools are known for precision cutting, durability and excellent prices. And they're beautiful to look at. These five tools are good for the most of the basic styling tasks for almost any bonsai. Just the kind of tools you'd expect to find in any serious bonsai artist's tool box.
The set consists of the following tools (left to right in the photo): Kiri Long reach Bonsai Shears (8.2" - 208 mm), Concave Branch Cutters (8" - 203 mm),  Bonsai Pliers (8" - 200 mm), Knob Cutters (8.1" - 205 mm) & Root Cutters (8.2" - 208 mm). The Vinyl 5 pocket tool roll is made by Bonsai Aesthetics.