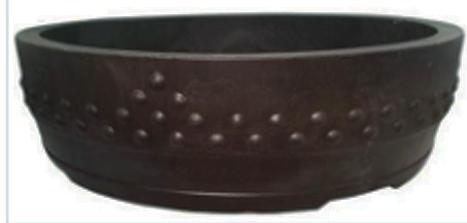 ROUND DRUM MICA BONSAI POT - 10" X 2.5"
Mica mimics the color and shape of traditional ceramic pots, but at fraction of the price. Mica is a light weight but durable material made of a blend of 80% mica, 15% polyethylene & 5% graphite. Unlike most dark pots, Mica helps maintain safe soil temperatures rather than overheating in the hot sun. Mica also can withstand the ravages of extreme cold.

Drum Pots are valued by knowledgeable bonsai artists, but ceramic ones usually priced out of reach for many of us. Now you can have the next best thing for a fraction of the price.
10" X 2.5" Brown round