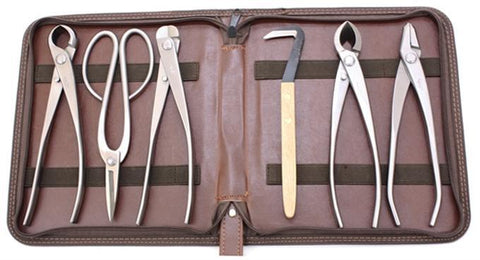 Bonsai Stainless Tool Kit by Roshi Tools - 6 Piece
Roshi bonsai tools are known for precision, durability, and value—and they feel great in your hand too. This set of one carbon steel & five stainless steel tools in a zippered case is just what you need for most bonsai tasks. A great gift for any bonsai lover including yourself. 

The set consists of: stainless bonsai pliers (8" - 200 mm), stainless wire cutters (8.2" - 208 mm), stainless concave branch cutters (8" - 203 mm), stainless classic bonsai shears (8.2" - 208 mm), stainless knob cutters, and a carbon steel draw Knife; all made by Roshi Tools, case by Bonsai Aesthetics.