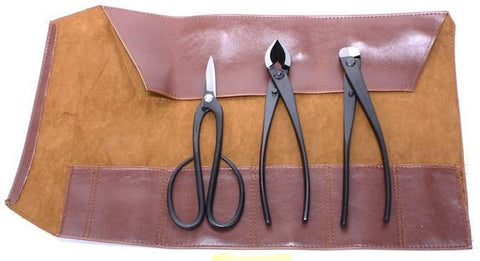 Roshi Set of 3 High Carbon Steel Bonsai Tools
This attractive set of three bonsai tools in a handsome vinyl tool roll is excellent for the most frequently used bonsai cuts and related tasks and are among the tools you're most likely to find in any serious bonsai enthusiasts tool kit.
The set consists of the following tools: Roshi Classic Bonsai Shears (8" - 200 mm), Roshi Concave Branch Cutters (8" - 200 mm) and Roshi Bonsai Wire Cutters (8.2" - 208 mm).
All 3 carbon steel tools are made for Stone Lantern by Roshi Tools. The handsome Vinyl 5 pocket Tool Roll is made by Bonsai Aesthetics.