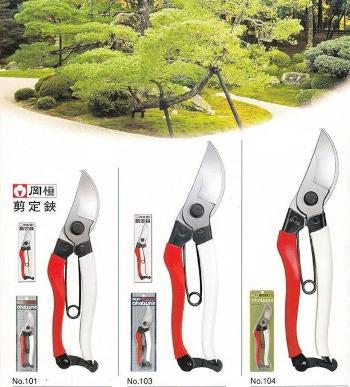 Set of 3 Okatsune Bypass Pruning Shears
Okatsune makes some of the highest quality tools in the world and these super sturdy bypass shears are no exception. Strong, sharp and built to last lifetimes, they are the favorite of professionals and gardeners throughout the world who appreciate the very best. You can keep yours close at hand and use them for heavy bonsai branches and roots, and anywhere you need hand shears in the garden.
As an extra plus, experienced gardeners and bonsai artists know that lost hand tools are a gardener's nemesis, and the red and white handles makes finding them easy against any background (for example half buried in soil underneath a garden shrub).
Small shear 7" - Large shear 8" - XL Heavy duty shear 8.5" (even though this tool is only one half inch longer then the 8" shear, it is surprisingly heftier and stronger).
BEWARE OF KNOCK OFFS! If you see a price elsewhere for any Okatsune tool that's too good to be true, it might be a made in China knockoff