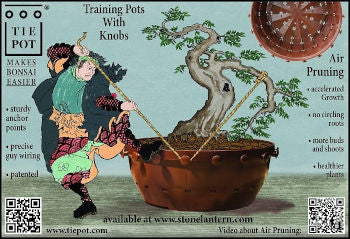 Tie Pots for Growing Bonsai - 10 Pack - Standard Size
Growing bonsai is now easier, more enjoyable, and more productive than ever thanks to tie pots. Each one features sturdy anchor points for tying or guy wiring your tree down. That alone is reason enough to use them, but maybe best of all they help you air prune too. Air pruning has tremendous positive effects on the health and vigor of your trees—instead of long stringy roots wrapping around the inside of a conventional nursery pot, roots are directed toward slots where their tips naturally stop growing—though if you live in a humid climate you may have to prune some roots too. The result is a pot full of evenly distributed fine feeder roots—the perfect condition for healthy, vigorous trees.

Made of durable, high impact plastic with sturdy tie knobs around the rim and special grooves for directing roots to aeration holes.
11" x 4.3" (28cm x 11cm) - Holds 5 liters (5.3 quarts).