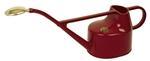 Hard Plastic Watering Can by Haws - 1 gallon
This attractive bonsai and all purpose watering can is made with high impact heavy duty plastic and is light weight and perfectly balanced.
Because of its tough durability, Haws lists it as an outdoor can, but it works equally well with indoor and outdoor bonsai as well as houseplants.
Comes with an all brass oval rose and spout extension. Spout length 10" - Height 19" - Holds 1 gallon. Red color.