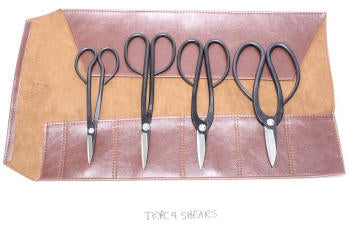 Roshi Set of 4 High Carbon Steel Bonsai Shears
Roshi Bonsai Tools are valued for precision, durability, beauty and reasonable prices. This attractive set of four Roshi Shears in a handsome vinyl Tool Roll is excellent for a range of bonsai cuts. The set consists of the following shears: Classic Bonsai Shears, Kiri Shears, Roshi Root Shears, Satsuki Shears.
All four high carbon steel shears are made for Stone Lantern by Roshi Tools. The handsome Vinyl Tool Roll is made by Bonsai Aesthetics.