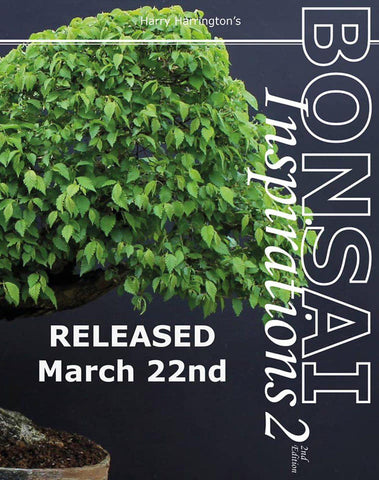 Bonsai Inspirations 2 by Harry Harrington
Here's note just received from Harry Harrington...
"Within just a week of its release, Bonsai Inspirations 2 has now reached 27 different countries around the world.
Copies are now being read in as diverse places as South Africa, India, Hong Kong and Australia.
It was a lot of work to make this Winter, but it's great to know it is sparked enthusiasm in so many different places!"
And a quote you might like... "Harry Harrington's approach is very genuine and refreshing. His bonsai creations are way beyond the traditional styles you see today, and that makes his bonsai so very personal. In his new book you will get a good insight into his approach to his bonsai art. A real must have for those aiming for creativity." Farrand Bloch, editor Bonsai Focus Magazine
In some ways Harry Harrington's Bonsai Inspirations 2 is a continuation of his Bonsai Inspirations 1. This is especially true when it comes to some of the bonsai Harry has been developing over the long term. Only now these trees are further along than they were in Inspirations 1 (and in an earlier edition of Inspirations 2).
In my opinion both Inspirations 1 and 2 can stand on their own and are suitable for intermediate to advance bonsai students as well as beginners who aren't afraid to challenge themselves. Having said this, I would recommend you read Inspirations 1 and then Inspirations 2.
"I have collaborated with Harry for many years now, creating pots for his amazing trees and from the very beginning I was impressed with his mastery of bonsai techniques. But what has really impressed me the most, is his ability to produce beautiful and innovative bonsai for the most humble raw material" Victor Harris, Bonsai Potter at Erin Pottery
This information rich book is divided into the following chapters:
Developing Your Own Bonsai
Developing Bonsai from Field Grown Material
Buying Raw Material for Bonsai
Developing Bonsai from Air-Layering
Developing Material from a Bonsai Nursery
Harry Harrington goes out of his way to reveal aspects of his unique design work and techniques for ensuring the health, vigor of and continued beauty of his bonsai.
In addition to Bonsai Inspirations 1 and 2, Harry has also written and published The Foundations of Bonsai, a book geared to novices (and others). If you are not sure you want to start right out with the Inspirations series, Foundations may be just the book for you
The author, Harry Harrington lives, practices and teaches bonsai in the U.K.
Softcover 8.75" x 11" (280mm x 221mm x 17mm 168 pages full of beautiful color photos and illustrations. Published by Bonsai4me.com