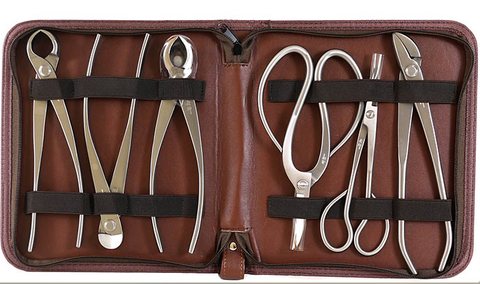 Roshi 6 Piece Stainless Bonsai Tool Kit with Zippered Case
Roshi bonsai tools are known for precision, durability, and value—and they feel great in your hand too. This set of six stainless Roshi tools in a zippered case is just what you need for most bonsai tasks. A great gift for any bonsai lover including yourself. 

The set consists of the following stainless Roshi bonsai tools (left to right): knob cutters (8.25" - 210 mm), wire cutters (8.2" - 208 mm), concave branch cutters (8" - 203 mm), root pruning shears (7.5" - 190 mm), satsuki bonsai shears (7" - 180 mm), bent bonsai pliers (9" - 229 mm) and Ryuga simulated leather vinyl zippered case.