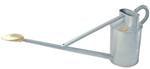 Galvanized Steel Bonsai & Garden Watering Can by Haws - 2 gallon
This attractive, silver colored, super sturdy Professional grade watering can is designed for outdoor bonsai and garden watering but works fine in the house.
Made of heavy, durable, rust proof, hot-dipped galvanized steel. Spout length 24" - Height 10.5" - Holds 2 gallons.