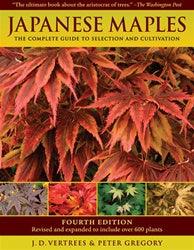 Japanese Maples BY J.D. Vertrees
By far the best book we've ever seen on Japanese Maples. If you love Japanese Maples, and who doesn't, you'll love this unchallenged classic. Now fully revised and updated with 135 new pages featuring 100 new cultivars. In all 380 cultivars are featured, supported by clear color photographs and expert text.
A great gift for any gardener (or bonsai tree enthusiast).
Hardcover, 332 pages, 312 color photos, 8 1/2" x 11"