Strange as this old tree is, it all works together with a blend of eccentricity and balance (and remarkable ramification*). This photo and the others in this post are from Peter Tea Bonsai
Way back in 2009 and early 2010 we ran a series of posts that we called Eccentric Bonsai. Maybe it's time to resurrect the series. If so, this one-of-a-kind Trident maple seems like a good place to start.
We originally posted this tree in December, 2011. It was borrowed from Peter Tea's blog.  Peter was an apprentice at Mr. Junichiro Tanaka's Aichi-en bonsai nursery at the time. Peter takes good photos and writes of his experience there with a fresh, easy to read perspective. To an old editor that's an unbeatable combination.
–
Here's that unusual (grotesque?) nebari up close. And here's what Peter had to say about it: "A close up of the root spread.  Even the root spread of this tree is strange.  Answer me this, would a more natural radial root base go well with the rest of the tree? or vise versa?  My first impression of this root base was, "what is this?"  When I looked at the overall tree again this root spread turned out to be so right for this tree (there is an important lesson to learn here). If you don't believe me, look at the picture of the front of the tree again.  ;o)."
A profusion of small, colorful fall leaves almost completely cover the tree's eccentric nature. Though winter is a great time to show deciduous trees at their naked best (see above), fall has its advantages too. I wonder if the tree had been defoliated... thus the very small leaves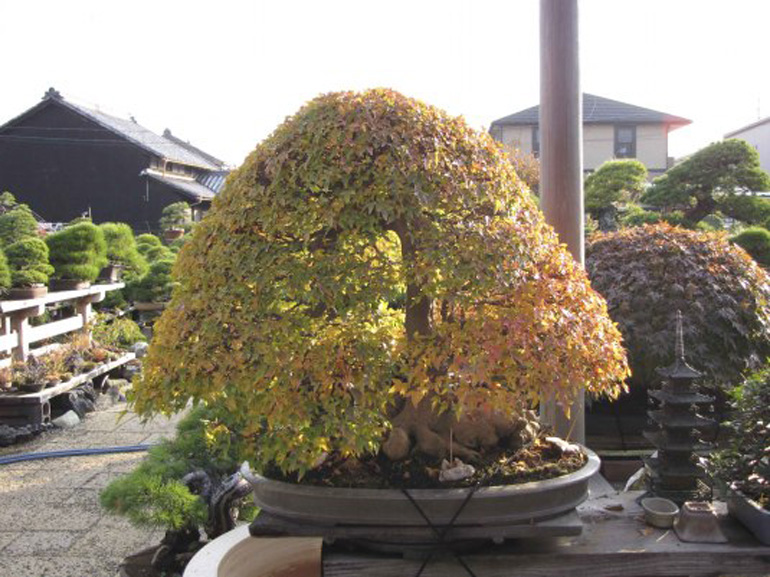 You can see a little piece of Aichi-en in this shot
*Ramification means branching and is often used to refer to highly developed fine branching. Something this tree has in spades (and something that often distinguishes Japanese bonsai from bonsai in the West)