Finest Tropical Bonsai & Finest Accent Plant. The tree is a Tiger bark Ficus (Ficus microcarpa) by Hoe Chuah. I've cropped this lead photo to show just the tree (a photo showing Soon Chuah's companion is just below and a photo of the tree with the companion is below that). The first three photos in this post are from Bonsai Empire.
Continuing with our 5th U.S. National Bonsai Exhibition theme from yesterday and our Ficus bonsai theme from the day before.  And of course, our encouragement for you to visit the 6th U.S. National next month
A family that does bonsai (and companions) together, wins together. Hoe and Soon Chuah were double winners at the 5th U.S. National Bonsai Exhibition. Hoe's Ficus is a strong and perfectly well-balanced, even regal bonsai, and Soon's companion is a simple wonder of subtle complexity.
–
This closeup shows Soon Chuah's prize winning companion (a photo of the whole display is below). This what can happen if you spend ten hours on one small companion planting (see Hoe's remarks below).
Though I wasn't aware of Soon Chuah's fine work with companion plants, I've long been a fan of Hoe Chuah's bonsai (and his blog,
Bonsai Penjing & More
). I particularly liked this prize winning Tiger bark Ficus when I first saw it. Like several of the winning trees, it caught my eye on my first quick walk-though of the exhibit. Apparently the judges share my taste.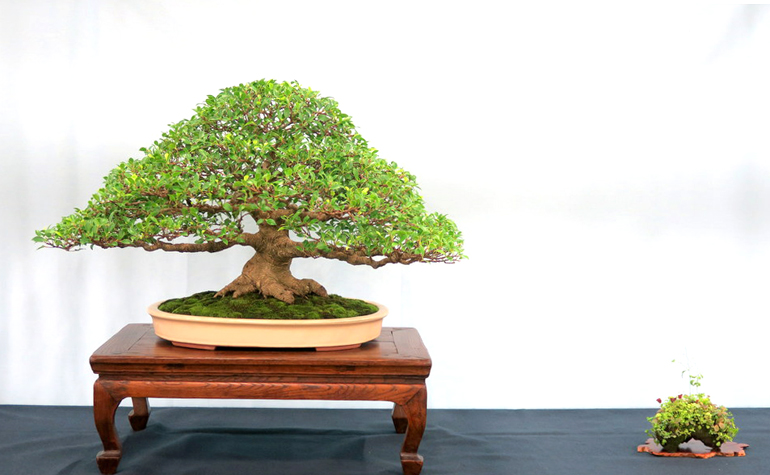 The whole display. Two prize winners in one shot (shot by Oscar Jonker of Bonsai Empire)
The following is what Hoe wrote to me about his tree and Soon's companion. "
This is my first time at the US National and entered a ficus display, which won the Best Tropical Bonsai category. And to my wife's surprise and thrill, she won the Bonsai Travel award for best companion plant. Our first participation, two awards in one display! Way beyond our imaginations. Aattached are some photos I took when setting it up (one of these is below). I had written a blog about 6 months ago on the 19-year journey of this Tiger Bark ficus starting from an unassuming pre-bonsai."
When I asked for the companion's varieties I got more than I bargained for. Again here's Hoe: "Soon gave me the list, there are 16 kinds of herbaceous plants and weeds planted on this 8″ wide lava rock.
Polka dot
Oxalis (Purple shamrock)
Australian violet
3 kinds of Sedum
Ilysanthes grandiflora
Pink knotweed
Pennywort
Mazus reptans
Wild strawberry
Angel plant
Portulaca
and 3 unidentified weeds.
Moss
 "These combinations allow the kusamono to show different colors and flowers for spring, summer and fall. Large leaves were trimmed regularly to reduce the size such as the purple oxalis from ~2" to nail size. I took her 4 months of constant pruning to reduce leave size to look like miniatures.
One more thing, all these plants were mixed to give it a "natural" wild meadow look. They look like random plantings but actually took her 10 hours to create the combination so that they blend in to look as wild and natural as possible."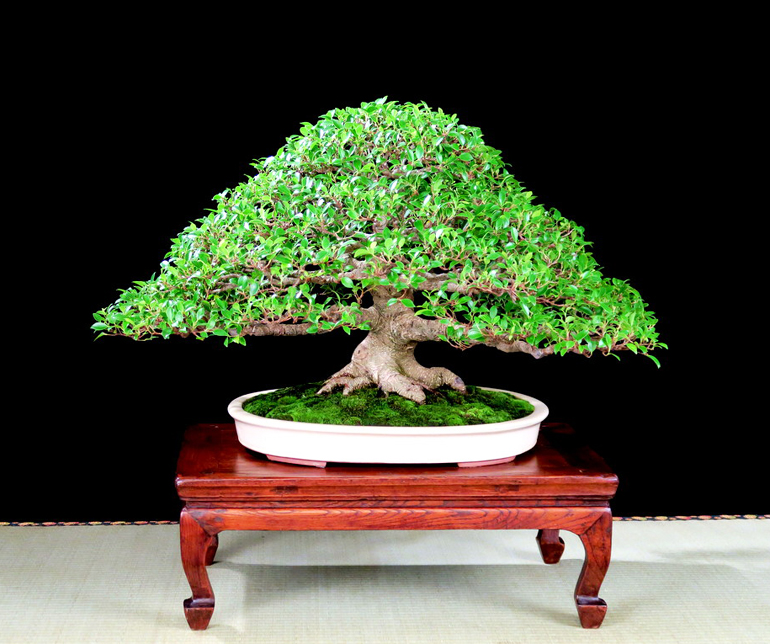 Here's a photo that Hoe sent me. It was shot by bonsai photographer par excellence, Joe Noga