Potentilla fruticosa before and after from Lakeshore Bonsai. There's a lot more than meets the eye when it comes to styling and caring for Potentilla
Yesterday we featured a couple little Potentilla, so let's stay on theme. This one was styled by Aaron at Lakeshore Bonsai in Toronto. The following is quoted directly from Lakeshore's site…
"This Potentilla is as fragile as a stained glass window and parts of it literally crumble away every time I work on it. It has undergone some pretty radical changes since I acquired it in 2011, and certainly does not look like the tree I initially envisioned it would become when I bought it. If I could give one piece of advice to anyone who wants to work with Potentilla – especially a deadwood specimen – I would say keep the trunk as clean and dry as possible. They are extremely susceptible to rot. Brush it, lime sulfur it, treat it with wood hardener, remove dead bark… all that good stuff is essential.
Continued below…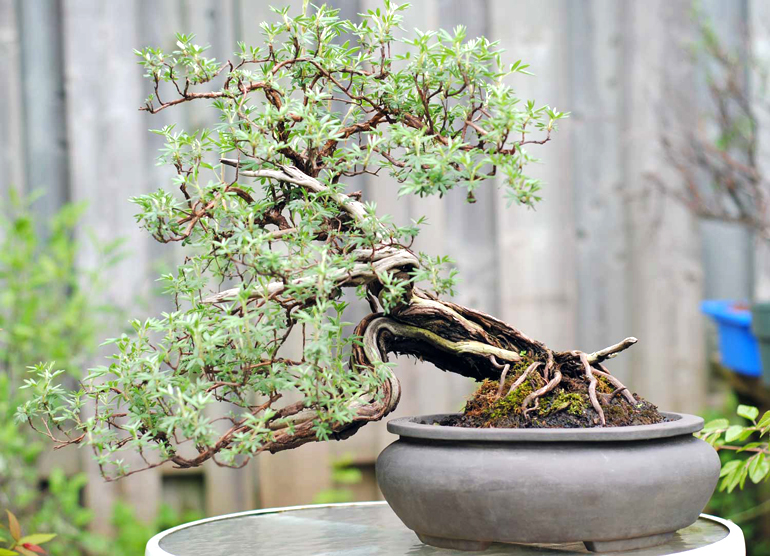 Before. May 2011
Continued from above…
"The main things I did this year were to remove the last of the rotting parts, soak every piece of deadwood in lime sulfur then wood hardener, and compact the crown. I also completely redesigned the branch structure such that it is much more simple and "bonsai like". This is contrary to the wayward, random nature in which Potentilla grow. I'm not saying the current image is better than some of the earlier ones. Certainly some incredible deadwood features have been lost.
Next step is to find the right pot, which certainly won't be easy. I figure this tree still has a couple years of life before it returns to the dust from whence it came."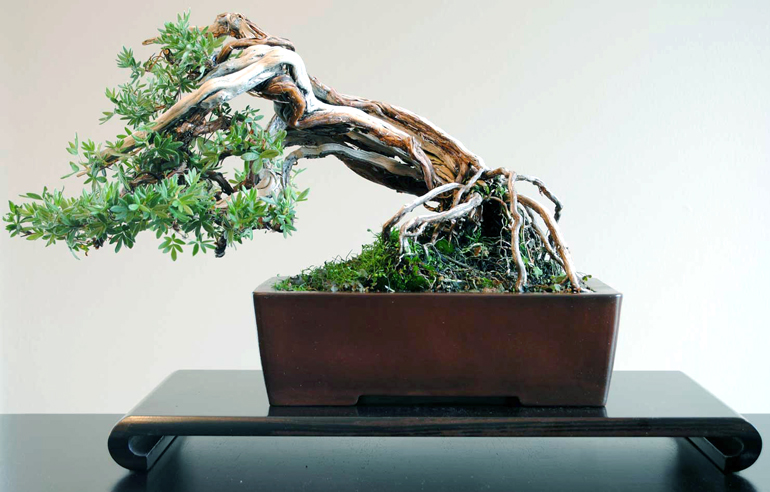 After... "The crown still needs a bit of filling out, but that won't take long."