This banyan style dwarf Snow rose serissa (Serissa foetida microphylla) was styled by David Fukumoto of Fuku Bonsai in Hawaii. The pot is a Tokoname from Japan. Living in the tropics is a big plus when it comes to growing aerial roots.

Monday morning, Stone Lantern's peak season and the busiest time of year for bonsai growers, so it's back to our archives. This one is from April, 2014
Based on thirty five years experience in bonsai business, I'd say that the majority of our readers and customers are into their middle years or beyond. I'm sure there are several good reasons for this, but I think it's mostly because a slower more stable lifestyle allows the time and space to properly care for bonsai.
Continued below…
Continued from above…
Which brings us to aging backs and smaller bonsai. On the back cover of Majesty in Miniature; Shohin Bonsai (out of print) it says "When compared to large bonsai, Shohin cost less, take less time to develop, take less space, are easier to move, and are less apt to be over-watered. Perhaps best of all, Shohin-bonsai are a delight to behold." Easier to move and better suited to the small balcony on the retirement condo…
This brilliant Viginia creeper belongs to Harry Harrington, author of the Foundations of Bonsai and Bonsai Inspirations.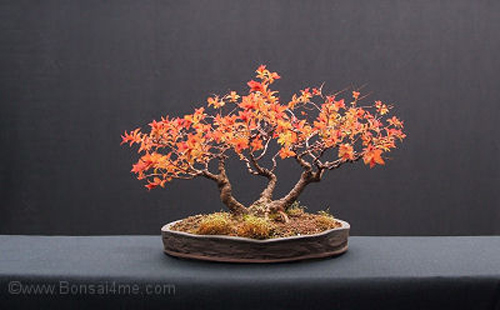 This is sweet little Spiraea japonica also belongs to Harry Harrington.