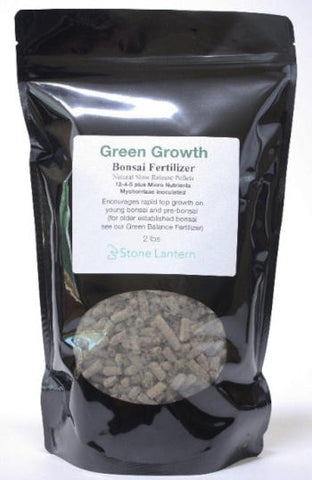 Green Growth Slow Release Bonsai Fertilizer 2 lb bag
Our Green Growth fertilizer is formulated to encourage rapid top growth on young bonsai and pre-bonsai (for older established bonsai see our Green Balance Fertilizer).
It's easy to use... sprinkle 2-3 tablespoons per quart of soil every 4 weeks during the growing season. Pellets release nutrients evenly over approximately 4 weeks. In warm weather with frequent watering, the pellets will start breaking down immediately to granules that persist on the surface of the soil for several weeks. This rapid breaking down and releasing of nutrients is unlike most other slow release fertilizers which can take several weeks or longer to begin working.
2 lbs - NPK - 12-4-5 plus micronutrients
Mychorrizae inoculated for enhanced nutrient absorption
USA ONLY due to customs regulations