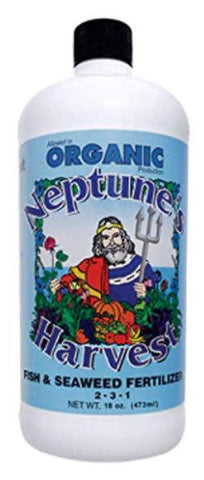 Organic Fish-Seaweed Fertilizer- Essential Nutrients from the Ocean 16oz
If you want you a complete range of Nutrients & Micro Nutrients for your bonsai and other plants, you'll be hard pressed to find anything better than Fish/Seaweed. Neptune's Harvest Organic Fish & Seaweed Plant Food is made from fish protein and Ascophyllum Nodosum a seaweed that grows along the cold North Atlantic Ocean Floor. We recommend use as an addition to any bonsai or other plant fertilizing plan. Most essential and other minerals sooner or later find their way to the ocean and there are no better collectors and storers of these minerals and other nutrients than fish and seaweed.
Use Neptune's Harvest Liquid Fish-Seaweed Plant Food on all your plants in alternate feedings. OMRI listed (Organic Materials Review Institute). Fish-Seawed will improve the health or virtually any plants, indoors and outdoors. You lawn, shrubs & trees, bonsai, succulents, houseplants (it's almost odorless) and even air plants.
NPK 2-3-1,  18oz recyclable plastic bottle. Excellent as a foliar spray and as a root fertilizer.