I don't know if you'd call this tree festive, but it has a bright spirited quality. It's an English yew (Taxus Baccata) by Stefano Frisoni from Italy
I just spent 30 mins cruising fb looking for a Christmas decorated bonsai to feature, but came up blank. I did find this in our archives. It has a bit of Holiday flavor and I like it, so why not?
Continued below… 
Nice tree. Fantastic pot with enough festive color to provoke a Holiday feel. At the time (2012?) the tree was eleven years from stump. The artist/owner at the time was Mariusz Komsta
Continued from above…
From the shameless promotion department… There are at least three reasons why I spend so much time on Bonsai Bark. To spare you I'll skip the first two… the third is to promote our Stone Lantern website. I'm mentioning it now because I just went through and put together some new specials and lowered prices on some bonsai essentials. We'll call it our Year End Special.
Enough said. I hope you continue to enjoy Bonsai Bark right though 2019 and beyond.
This Shimpaku planting on a slab by Mariusz Folda was exhibited at Noelanders Trophy 2013. I like the way the trunks complement each other with their deadwood and live veins
I haven't seen that many Myrtle bonsai and of those I have seen, this one is the most impressive. Though the flowers aren't necessary to appreciate the tree, they add a nice touch. The tree belongs to (or belonged to) Mauro Stemberger
Upside down bonsai. This Japanese maple and Mondo grass planting turned up in Bonsai Empire's facebook photos with this caption... "Very original display of a Japanese Maple by Bill Valavanis! Pot and ceramic root stand by Dale Cochoy"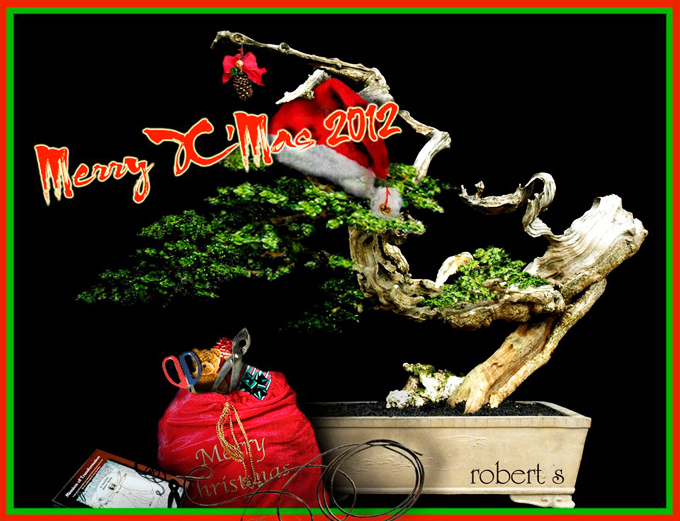 Robert Steven's Christmas card six years later.